I am super excited about Amazon's Daily deal!  Save up to 50% off select Ravensburger puzzles & games
.  We own several Ravensburger puzzles and games and they are awesome!  Their puzzles are made out of high quality thick material.  We also own the Ravensburger Labyrinth game
 and it is a ton of fun, it's one of the those games you don't mind playing with your kids!  FREE shipping with Amazon Prime or Super Saver Shipping.  Here are a few of our faves:
Ravensburger Labyrinth

$15.49   (reg $31.99)   SAVE 52%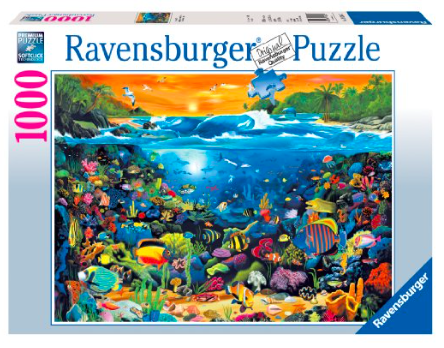 Ravensburger Underwater Fun – 1000 Pieces Puzzle

$9.75   (reg $19.49)   SAVE 50%
The Castles Of Burgundy

$19.99  (reg $41.99)  SAVE 52%
Thomas & Friends: Sodor Friends 24 Piece Shaped Floor Puzzle

$9.75   (reg $14.99)   SAVE 48%
Amazon also has some K'NEX sets marked down to 50% off or more.   My kids have always love the K'NEX sets, they make a great gift that you know will get play with time and time again.   Keep in mind that Amazon prices can change at anytime, these prices were valid when posted.
K'nex 70 Model Building Set ( 705 piece)

$16.88  (reg $39.99)  SAVE 58%
K'NEX Land Rocket Building Set

$10.91  (Reg $24.99)  SAVE 56%
Crazy 8 is offering FREE shipping on any size order today only.   The deal gets a little sweeter because their entire site is buy one get one $.88!  FREE shipping will be applied at checkout.  Crazy 8 has tons of markdowns starting at just $2.88 which are also included in the buy one get one $.88 sale!   Be sure to have a peek at that section to see what super deals you can find.Here are a couple of deal scenarios:
Zebra Stripe Heart Tee $8.99 (reg $14.88)
Zebra Stripe Skirt $8.99 (reg $14.88)
Buy one get one for $.88 (-$8.11)
Final Price = $4.94 each
Rocker Jeans $16.88
Hooded Henley $13.99 (reg $16.88)
Buy one get one for $.88 (-$13.11)
Final Price = $8.88 each